Wednesday, September 21, 2022 - 09:00

to

Saturday, September 24, 2022 - 18:00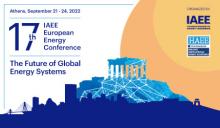 The Hellenic Association for Energy Economics (HAEE) will host the 17th IAEE European Energy Conference with the title "The Future of Global Energy Systems" in Athens, next 21-24 September 2022.
COVID-19 has evidenced many economic and societal vulnerabilities, which have also affected energy systems worldwide. This is precisely why this specific topic was chosen: countries are dependent on their energy mix if they want to succeed in the global energy transition efforts, while ensuring a fair and affordable access to energy. 
More information and registration following this link: Home/Conferences & Events/IAEE Events/17th IAEE European Energy Conference (haee.gr)