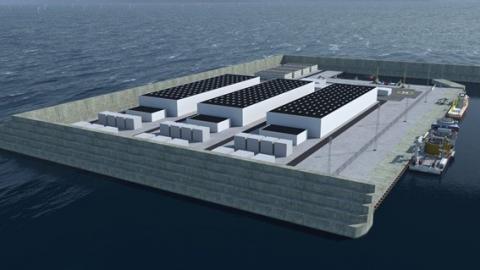 Danish politicians approved a project to build the world's first energy island supplying three million households with energy from the offshore wind power.
With the size of 18 football pitches, the energy island will be historically the biggest construction project in Denmark. The hub for 200 giant offshore wind turbines will be situated 80km out to the North Sea, most probably in the area west of the Jutland coast.
Europe's offshore wind targets
The European Commission announced plans for a 25-fold increase in offshore wind capacity by 2050, with a five-fold increase by 2030. Currently, the European offshore wind supplies 12 gigawatts of energy. The new energy island would supply an initial 3 gigawatts, rising to 10 over time. The smaller already planned Bornholm island aims at providing 2 gigawatts, which is more than the current Danish supplies - 1.7 gigawatts.
Denmark's pioneering position
Denmark has been recognised as a leading wind turbine industry on land and offshore in the past years. As the next step, the country is planning to build energy islands.
"The country is changing the map", Energy Minister Dan Jorgensen said. Denmark aims to become CO2 neutral by 2050. Apart from the commitment to reduce greenhouse gas emissions by 70% by 2030 as per Climate Act, Denmark announced the end of all new oil and gas exploration in the North Sea.
Danish state will own more than half of the biggest energy island, the rest will be distributed in the private sector. The estimated cost for the construction is €28bn.
Benefit for other countries
Previously, Germany, the Netherlands, and Belgium signed for electricity from an off-plan energy island in Bornholm in the Baltic Sea. The neighbouring countries could benefit from electricity grids produced in both energy islands – the small in Bornholm and the big near Jutland.
Source: BBC