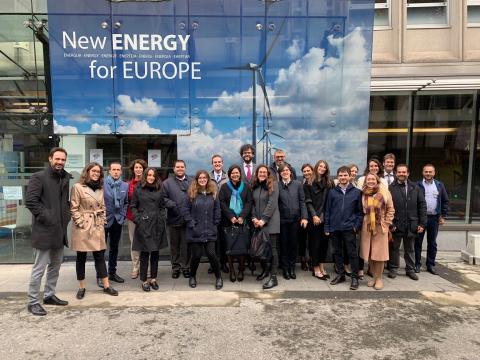 The EU project NESOI aims to mobilise more than 100M € of investment in sustainable energy projects to an audience of 2,400 inhabited EU islands by 2023, giving the opportunity to test innovative energy technologies and approaches in a cost-competitive way. 
On the 7th-8th of October 2019 in Brussels, the EU funded project "New Energy Solutions Optimised for Islands" (NESOI) was kickstarted by a team of experts in island energy transition and financial instrument
Led by the Italian consulting, fund management and investment company SINLOC, an interdisciplinary group of experienced partners including analytic and financial specialists, technical, legal and procedural experts as well as consultants on environmental and social issues have joined forces with the aim of helping island communities achieve more efficient and sustainable energy solutions, in line with the EU's clean energy priorities, through the funding, supporting and monitoring of energy projects lead by local authorities and island energy communities.
"We believe that the NESOI Facility will bring Europe's energy transition ambitions a step forward by providing to islands training, technical support, cooperation opportunities and robust funding opportunities to concretely implement Renewable Energy Sources (RES) plants, building and energy infrastructure retrofitting, energy bills reduction, local job creation and more, allowing them to become the locomotives of European Energy Transition", says Andrea Martinez (SINLOC), NESOI project coordinator.
To achieve this, NESOI will setup a physical and digital platform able to provide local authorities and communities with first-step technical assistance funding and competencies to deploy investments foreseen in islands energy transitions plans. The platform will also act as a one-stop-shop for islands where to find ideas and effective organisational, technical and financial instruments for the whole value chain of a project.
Getting inspired by other worldwide islands-oriented funding initiatives, NESOI will capitalize on consortium project expertise, and, through its platform, it aims at mobilising more than 100 M€ of investment in sustainable energy by 2023, leading to an expected 440 GWh/year in energy savings.
Participation at the kick-off also included high-level representatives from European Commission who oversee EU energy transition projects in the context of islands and took a special interest in the NESOI project, recognising its potential to drive energy system decentralisation and foster community based, citizen driven, bottom up initiatives.
NESOI is a multi-disciplinary consortium made up of 10 recognised and experienced key players from 9 different EU member states led by SINLOC - Sistema Iniziative Locali, R2M Solution, RINA Consulting, ZABALA Innovation Consulting, Hellenic Association for Energy Economics, Fundacion CIRCE Centro de Investigacion de Recursos y Consumos Energeticos, Centre for Research and Technology Hellas,E.ON, Deloitte Advisory and WOLF THEISS.
This project is awarded by the European Commission with a Horizon2020 Programme grant of €10 million and will run for 4 years.