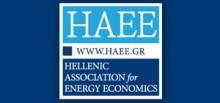 The Hellenic Association for Energy Economics (HAEE) is the Greek affiliate of the International Association for Energy Economics (IAEE).
HAEE is a non-profit research and professional organization acting as an interdisciplinary forum for the exchange of ideas and experiences among energy experts. HAEE was founded in 2015 in Greece, and has a global orientation welcoming the participation of researchers and practitioners from around the world interested in energy and economic related fields.
It acts as an independent consulting body for national and international organizations to whom it provides a broad contribution on issues related to energy, economics, policymaking and theory. 
Through meetings and joint initiatives HAEE also provides a means of professional communication and exchange within its members and the authorities defining the Greek energy policy.
HAEE organizes meetings amongst experts and specialists interested in networking energy, economics and environment - organizes conferences and seminars on both national and international levels - promotes training initiatives in the energy and economic sector - provides researches, studies and other services for its members.
HAEE promotes the understanding of energy, environment and economy related topics within universities and encourages the participation in the Association activities of young students who are invited to seminars and conferences and can make use of the IAEE library for their academic works.
HAEE is financially supported by member dues, contributions for research activities carried out for companies and bodies involved in the energy field, and by the sale of conference proceedings as well as conference fees and other initiatives.
Website