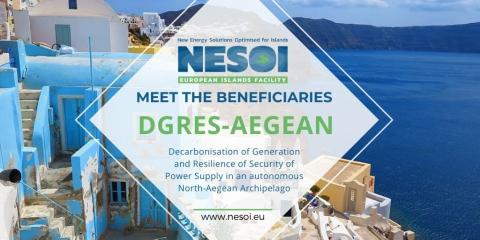 Decarbonization of Generation and Resilience of Security of Power Supply in an autonomous North-Aegean Archipelago (DGRES-AEGEAN) is a project supported by NESOI European Islands Facility, managed by our partners from CERTH, and promoted by the Network of Sustainable Greek Islands (DAFNI) Public Power Corporation S.A.
The main aim of the project is to take decisive steps toward the decarbonization of the system's electricity generation and the improvement of the resilience of security of electricity supply to the Archipelago.
The DGRES-AEGEAN project's goals are to contribute to raising the proportion of renewable energy in the island systems, boost the thermal plant's energy effectiveness, and enhance supply quality and network resilience. Photovoltaics and batteries are examples of mature, commercially available technologies that were required to achieve these goals. Also, by meeting the electrical needs of 130 energy-poor households, the establishment of an energy community will aid in the drive to combat energy poverty.
Read more about this project in our Island Stories section: